When should you start saving for your child's post high school education? While it's never too late to start saving, the answer is the sooner the better! Research shows that even having as little as $1 to $500 set aside for future education, encourages a child to do better in high school, makes them three times more likely to enroll in a higher education program, and four times more likely that they will graduate from that program. These are big impacts from small dollars!
On Thursday, October 27th, Amy Mangan-Fischer and Carol Bralich, Extension Educators from Fond du Lac and Washington County, will discuss saving for post high school education. The session will include information on how much higher education costs, ways to pay for higher education, and tips on how you can get started saving. Registration is now open for this FREE event.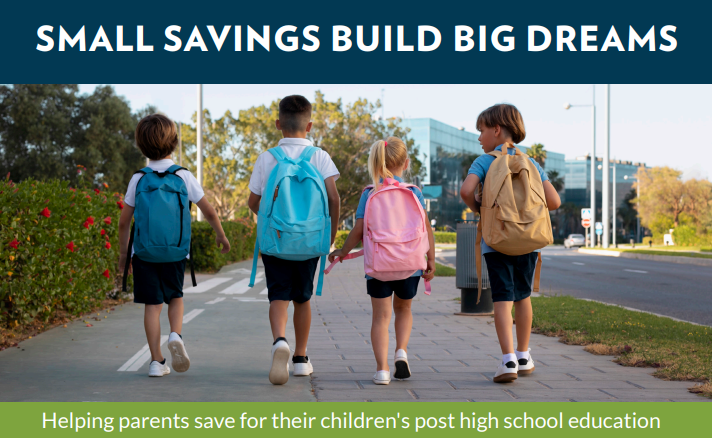 Can't wait till then? One way you can get started is a 529 College Savings Plan. Parents, grandparents, and community members can all help a child realize their potential, by putting money aside. When the child is ready to continue their education, the funds can be used for tuition, room & board, books and more. And the best part is that there is no income tax on those withdrawals. Plus, the depositor gets a Wisconsin state tax credit on their contributions. Watch a quick video about Wisconsin's 529 plan or visit edvest.com to learn more about 529 plans, Edvest, and Tomorrow's Scholar. 529's are just one way to save for higher education. It's important that you find the savings tools that are the most accessible and the easiest for you!
Mark your calendar for Thursday October 27th from 6:30-7:30 pm and learn how you can make a difference in a child's life!  For more information, email Amy Mangan-Fischer (Fond du Lac County Educator) at amy.manganfischer@wisc.edu or Carol Bralich (Washington County Educator) at carol.bralich@wisc.edu.