Planning AHEAD is a 7-session research-based program that will help participants understand how to prepare for the end of life for themselves or a loved one and understand the importance of having a plan in place.
Program topics include Getting Started, Handling Financial Changes, Advanced Medical and Legal Directives, Estate Planning, Choices in End-of-Life Care, Final Wishes and Understanding Grief.
Click here to download the 112-page Planning AHEAD workbook.   You'll find worksheets that you can use to assemble important information and make your wishes known to loved ones.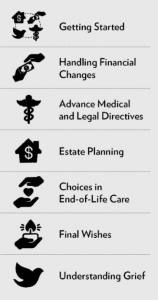 For additional resources and to learn the schedule for upcoming classes and training sessions for facilitators, please visit this website: https://aging.extension.wisc.edu/programs/planning-ahead/