Wisconsin communities, parents, and youth know that the future is brightest when the most opportunities are open to them. We all need young people with the education to succeed in the jobs of tomorrow, so how can we build our community's chance to thrive? Youth Forward Wisconsin is finding out!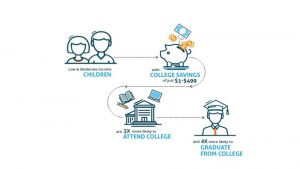 Research shows that youth with a small amount of money saved for higher education, coupled community support, are more likely to enroll and graduate from post-secondary programs than youth without these savings, making them ready for the opportunities of the future!
Key points
Universal – Together, we work toward 100% of youth in your community having at least a small amount of money saved for their future education
Community Supported – On a regional or county level, a Community Advisory Board supervises the program, seeks funding, and provides community input.
Extension Outreach – Local Extension Educators help with outreach & education in your community and keep it connected to the statewide effort.
Supported by UW-Madison Division of Extension and local Extension educators, Youth Forward Wisconsin gives communities the tools to understand and implement a universal child savings account program that fits their needs, and helps their youth reach their full potential. Additionally, research shows that universal child savings accounts will benefit each Wisconsin county as well as the entire state of Wisconsin. Learn more about the anticipated benefits of universal child savings accounts here.
View and print the Youth Forward Wisconsin fact sheet. Also, you can visit this interactive map to explore the net benefits of child savings accounts in each Wisconsin county. Additional resources for launching Children's Savings Accounts are below.
For more information, contact your local Extension office, or HDR Program Manager, Jenny Abel, jenny.abel@wisc.edu.