Given how much the cost of college increases over time, saving for your child's future education may seem like a drop in the bucket. It is true that U.S. households use a variety of sources of money beyond savings to fund their children's education, but saving for college plays a special role in helping pay for school. Saving for college can help students and parents reduce their reliance on higher cost borrowing, and can help children form "college-bound identities"–expectations about going to college and strategies about how to get there. Cost is a common barrier to higher education, and saving is still an important way to reduce cost as an obstacle.
Families and Students Use a Mix of Funds to Pay for College
For many families, the point of saving for college is not to save enough to cover all costs of a college education. The following chart shows how the average U.S. household paid for college for the 2021-22 academic year (Source: Sallie Mae, 2022). Parent and student income and savings is the biggest category at 54%. Borrowing only accounts for 18% of all payments. The exact mix of funds varies from family to family, but it is clear households use a mix of funds to pay for college.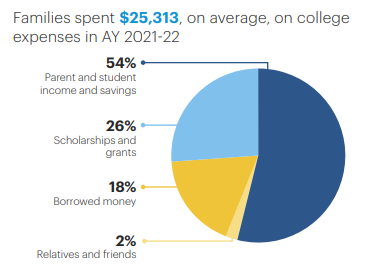 Financial Aid Comes in Many Forms
Financial aid refers to several sources of funds, not just grants. Different types of financial aid fall under four categories:
Grants
Grants are offered by the government and some educational institutions. They do not need to be repaid. Grants may be need-based (for example, based on income), merit-based (based on student performance), or based on some other criteria. 55% of families reported that they used grants to pay for college.
Scholarships
Like grants, scholarships do not need to be repaid. Scholarships are offered by educational institutions and private organizations. How scholarships are awarded varies–for example, some may be awarded for academic achievement, but others for a wide variety factors. 60% of families reported they used scholarships from sources such as the state, college, or a nonprofit to pay for college. One website to look for scholarships is fastweb.com
Student Loans
Loans are offered by the federal government and private financial institutions. Loans must be repaid with interest. A variety of loan options are available, and some students are eligible for subsidized loans that come with lower interest rates and payments deferred until graduation. 41% of families reported that they borrowed funds to pay for college.
Work Study
Students may be eligible for subsidized employment at a school-based jobs. Work study earnings generally do not count against students' eligibility for other types of financial aid and could increase need-based financial aid. 66% of families report that students who attended college worked all year, over school breaks, or during academic terms.
These data are sourced from Sallie Mae's 2022 report on How America Pays For College.
Incoming Students Need to Fill Out the "FAFSA"
The availability of different types of financial aid depends on a variety of factors, and application requirements vary. One critical step for incoming students is to fill out the "FAFSA"–the Free Application for Federal Student Aid–at fafsa.gov. Filling out the FAFSA as early as possible lets families determine the types and amount of financial aid they are eligible for from the federal government. Colleges often have their own processes for determining financial aid, and private scholarships (for example, from an employer) also have their own application processes. The FAFSA must be completed each year and is the foundation of critical sources of financial aid.